The financial aid process no longer has to feel intimidating and confusing; the student-friendly JBAY Financial Aid Guide for California Foster Youth takes the mystery out of applying for and keeping financial aid. 
This comprehensive guide begins with an explanation of different types of financial aid available, includes a step-wise guide to completing the FAFSA/CADAA, tips on what to do after the FAFSA/CADAA to ensure maximum aid awards, and explains how to stay in good standing and keep getting financial assistance for school.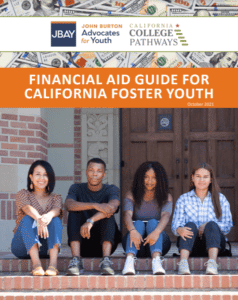 Below are resources to aid foster youth in completing the FAFSA.